Attachments
Here at 674 Sales LLC we find it essential to offer our dedicated customers a full line of material handling attachments for their skid steer loaders, tractors and forklifts. When we went shopping for a manufacturer the Blue Diamond Brand stood out among the rest. Blue Diamond is located in Knoxville, TN where the attachments are made. The complete lines of attachments are MADE in the USA. Blue Diamond boasts this claim. As you look through the full color catalog please do not hesitate to call and ask questions. We are here to educate and serve your needs. Thank you for your business in advance!
CLICK HERE TO VIEW FULL CATALOG! (PDF)
"674 SALES EVERYDAY LOW PRICE…"
Skid Steer Pallet Forks – $695.00
4000lb Lift Capacity, 48" Tine Length, 375lb weight
Add $25 to price for steps & $75.00 for other than universal mounts.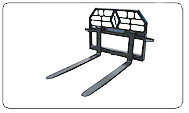 Hay Spears – $395.00
3500lb Lift Capacity, 49" Spear Length, 165lb weight
High quality tines with removable stabilizers.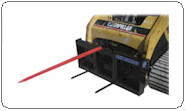 66" Tooth Bucket – $795.00
365lb Weight, 3/16" Wrap, ¾" Cutting Edge, Heavy Duty Cast Teeth & 1/2" Ware Bars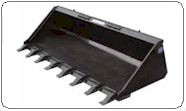 72" Smooth Bucket – $695.00
378lb Weight, 3/16" Wrap, 3/4" Cutting Edge, ½" Ware Bars. Add $225 for bolt on edge.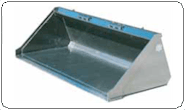 72" Snow & Mulch Bucket – $795.00
575lb Weight, ¼" Wrap Reinforced Back, Includes Mount. Add $225 for bolt on edge.